Nothing available at the moment, but feel free to email your resume if you would like us to contact you should anything come up.
905-853-1150

Saddle For Sale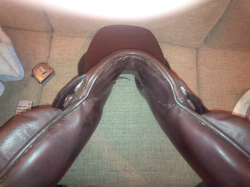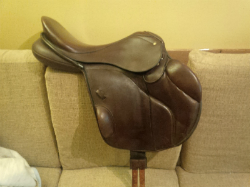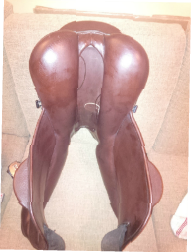 This lovely used cross country saddle is in great condition. It is a Schleese Eventer Cross Country saddle, 18" seat, in brown leather. The tree is the fully adjustable* Schleese AdapTree and is currently set to medium fitting. The seat is deep and the narrow twist allows the rider's leg to fall and hang naturally. Saddle flaps measure at least 15" from the stirrup bar down to the bottom of the flap. The beauty of this saddle is that the long billets reduce bulk under the leg and requires the short (Cross-Country or Dressage style) girth. Soft, French-style leather throughout. This saddle's condition is exceptional, and shows only shows normal to light marks on the flaps from boots and stirrup leathers. It has been very well cared for. The leather looks and feels gorgeous! The billets are also in very good shape. This saddle originally cost over $5000 so this is a great deal. All of the Schleese saddles have extra wide gullets to protect the spinous processes and the dorsal ligament system of the horse. The gullet width increases slightly towards the cantle to allow ultimate flexibility of the vertebrae.
SEAT - The saddle has been designed with a well-balanced deeper and wider seat to bring the rider closer to their horse.
TWIST - The narrow twist allows the rider's leg to fall and hang naturally.
PANEL - The combination integrated and independent panel keeps the saddle back and allows more flexibility and freedom of the horse's shoulder.
BILLET SYSTEM - The saddle features a long billet webbing system to reduce bulk under the rider's leg. A short girth is required.
THIGH BLOCKS - The external thigh and calf blocks give the rider maximum leg support where needed.
LEATHER - French-Style leather. Extremely soft and very little 'breaking-in' time required.
Info@vivianridge.com